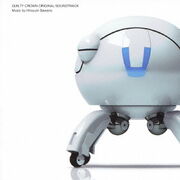 Original soundtrack release from anime series "Guilty Crown" composed by Hiroyuki Sawano.
Track List
βίος <feat.Mika Kobayashi>
α
Ω
Ready to Go <feat.David Whitaker>
Friends <feat.mpi>
VOiD
GHQ
Θεοί
Close your Eyes <feat.Michiyo Honda>
Βασιλεύς
π
Release my Soul <feat.Aimee Blackschleger>
Rising Souls
Hill of Sorrow <feat.mpi>
Αποκάλυψις
Home ~in this corner~<feat.Leina>
Genesi§
βιος-δ <feat.Mika Kobayashi>
Rё∀L <feat.Cyua>  
Translations
1)Life
2)Alpha
3)Omega
8)Deities
10)Kings
11)Pi
15)Apocalypse
18)Life-delta originates from the greek word Γέννηση meaning Birth
Ad blocker interference detected!
Wikia is a free-to-use site that makes money from advertising. We have a modified experience for viewers using ad blockers

Wikia is not accessible if you've made further modifications. Remove the custom ad blocker rule(s) and the page will load as expected.